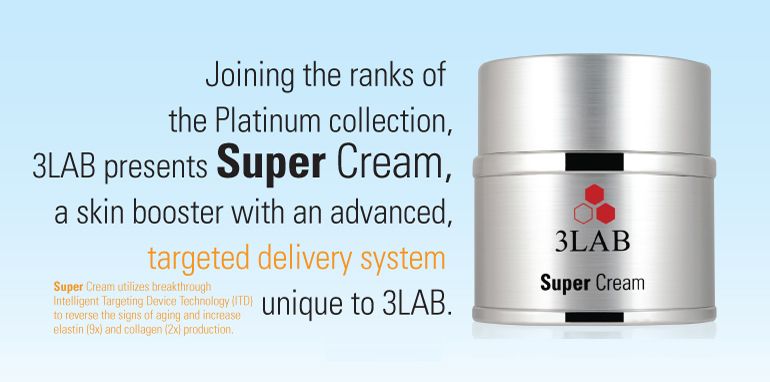 oining the ranks of the
Super collection
, 3LAB
presents
Super Cream
,
a super-powered skin booster with an advanced, targeted delivery system unique to 3LAB. This luxurious, ingredient-rich cream improves skin tone and texture in a matter of days.
X50
and
Intelligent Targeting Device (ITD)
deliver antioxidants and peptides directly to the source of the problem, combating fine lines, wrinkles and skin imperfections with quick, dramatic results.
With Super Cream,
3LAB
will be the first to introduce "smart" technology to skin care. Think of it as a GPS system programmed into your skin cream. The key ingredients are encapsulated within the cream and delivered directly to the targeted destination, damaged or aging cells, where they are released upon impact. The concept was adapted from the pharmaceutical industry where "smart" delivery technology enables medications to target diseased cells.
Key Features and Benefits include:
•
X-50 and ITD technology delivers skin rejuvenating peptides right to the cells, dramatically increases elastin and collagen production
•
Regenerates cells through the use of Phytocell Tec and Nano Claire GY™
•
Provides effective whitening and brightening enhancing the skin's luminosity
•
Minimizes the appearance of pores
•
Instantly reduces the appearance of fine lines and wrinkles
The Retail Price is 3,150 AED and available exclusively in the UAE at Harvey Nichols and Bloomingdales.